Uncategorized
Everything You Need To Know About STIR/SHAKEN
Now Being Provided To Clarity Voice Clients
STIR/SHAKEN: What is it? 
STIR/SHAKEN is a technological framework created to reduce phony robocalls and unauthorized phone number spoofing. Secure Telephony Identity Revisited is referred to as STIR. Secure Handling of Asserted information utilizing tokens is known as SHAKEN.
SHAKEN vs. STIR 
The STIR protocol, which stands for Secure Telephony Identity Revisited, allows for the inclusion of calling party information in a digital signature. This concentrates more or less on the endpoints and enables the production and widespread verification of the digital signature. Secure Handling of Asserted Information Using Tokens, or SHAKEN concentrates on the implementation of STIR within the network infrastructure. In contrast to STIR, which focuses on end devices, SHAKEN discusses deployability.
The call flow of a STIR/SHAKEN  
A SIP INVITE is started by the calling party whenever a call is placed. When the call is received, the initiating service provider analyzes the call's source and calls the number to ascertain the level of attestation. The origin service provider creates an encrypted SIP identification header with the following information using an authentication service:
The number dialed caller's number
Date and timestamp at the moment
Assurance level
An origination identification for traceback that is distinct
The SIP invite is then forwarded to a confirmation service by the termination provider and the SIP identification header. The terminating provider decides whether to finish or block the call after the call has passed verification depending on the attestation level and, if applicable, additional variables like their own call statistics.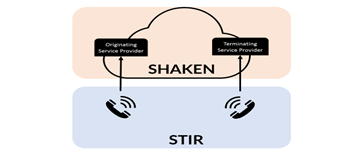 How does STIR/SHAKEN function? 
Following conventional public essential cryptography techniques, STIR/SHAKEN uses computerized testaments to ensure the security of a call's calling number. A declaring authority trusted by other telephone utility suppliers grants each telephone utility supplier their computerized endorsement. The caller is given the ability to verify that the calling number is genuine and has not been fictitiously altered thanks to the declaration innovation.
The call stream steps below demonstrate how STIR/SHAKEN functions.
Entire Attestation (A) — the calling party has been validated by the specialist co-op, and they are permitted to use the calling number. An example is a supporter hired by the soft switch of the new telephone utility provider.
Preliminary Attestation (B) — the professional co-op has verified the call origination but cannot confirm that the call source has permission to use the call number. An extended phone number serves as an example of this use case.
Gateway Attestation (C) — the expert organization has confirmed where it received the call but cannot verify the call source. An example of such a situation would be a call received from a global entryway.
Future and Relevance of STIR/SHAKEN 
An industry-wide program called STIR/SHAKEN aims to reestablish confidence in voice communications. Its objective is to ensure that legitimate calls are received by the recipient while preventing criminals from defrauding consumers and businesses through automated calls and unlawful phone number spoofing.
Why Should We Care? 
Clarity is fully compliant with STIR/SHAKEN—all calls originating on the Clarity network will receive an attestation. Customers do not need to take any action and will not be notified of the attestation their calls receive from Clarity.
Clarity will sign and attest to any outbound call that our customer does not sign. Customers, however, should be aware of any applicable regulatory requirements to participate in the STIR/SHAKEN ecosystem directly and to sign their calls as mandated by the Federal Communications Commission. Clarity will pass along SHAKEN signatures we receive in any outbound calls.
Clarity customers who purchased numbers from Clarity should expect to receive an A attestation. If a Clarity customer uses a number not on the Clarity portal, the customer will be assigned a B attestation. Clarity customers with HVSD (high volume short duration) traffic can also expect a B attestation.
Customers who want to increase their attestation to an A attestation should consider porting their numbers to Clarity Voice.
Clarity is proud to have been providing on-premises and Cloud Hosted Telephony to the Americas and the world since 2006. Clarity is the oldest continually serving 3CX Partner in North and South America. Our clients are worldwide and currently using our unified communications platform. Clarity Technologies Group, LLC surpasses expectations.
Call Clarity at 800-354-4160 today or email us at [email protected]. We are partnered internationally across the globe and we are open seven days a week, 8:30 AM to 5:00 PM EST/EDT. http://45.33.92.219, and https://node1.claritytg.net/callus/#salesqueue – to Click To Call!